For you to get the full function of all that HCA does, it must run 24/7 on a Windows computer. While you are free to use any computer running post-XP Windows (including Windows 10), many users find it simpler to have a dedicated machine for HCA. A machine that runs only the HCA Server application and executes your design. From any other computer you run HCA as a client when needed, connect to the server, and update your design or check status.
[If the last paragraph is not 100% clear, that is what the Getting Started Guides are all about. The Getting Started with Client Server gives you all the details of this multi-machine approach step-by-step.]
Here at HCA Central we looked at a lot of these kinds of computers and found one we like a lot. Several HCA users also use them, and they really like them too.
We are making them available to the HCA user community.
The computer has these key specs. A lot for a small size:
Factory new. Not an ebay used or refurbished unit
Small size: 5.6" x 4" x 1.5"
Windows 10 Pro fully licensed
2GB Ram - what we ship with but you can add more if you want
32gb SS Drive (after all Windows updates and HCA installed there is about 7 gb free space for your use. Windows has reserved another 7 gb free space for future Windows updates but that can be changed)
Intel Apollo Lake Quad-Core processor 1.50 Ghz to 2.30 Ghz
Bluetooth 4.0
Ethernet – wired and wireless
VGA and HDMI monitor ports
3 USB 3.0 ports, 1 USB 2.0 Port
Audio output 3.5mm jack
1 year warranted from the manufacturer
Since no "spinning disk" or fan, it's 100% quiet
In operation uses about 7 watts of power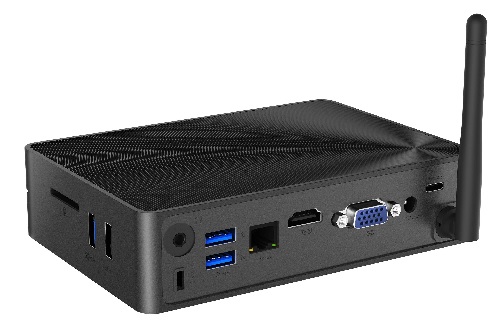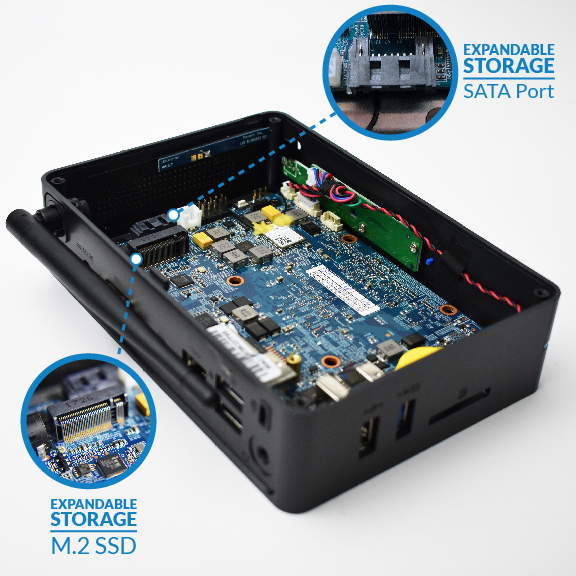 The best part of this computer is that it was designed for kiosk type applications (on 24/7) and can be hardware configured to reboot directly into Windows on power on. No need to do anything if you have a power outage. The machine starts, Windows starts, the HCA server starts, and your automation solution is alive again.
We are offering these machines for sale at a special price. If you do not yet have HCA Plus, or have an older version HCA, a fully licensed HCA Plus is included at a discounted price.
When the machine arrives at your home all this has been done for you:
Windows installed with no Microsoft account and no password.
All Windows updates made to latest Windows Feature Release and all released updates. If you have not setup a new computer in a while, it is a bunch o' work that we did for you.
The machine configured to automatically start Windows on power on.
The latest HCA Plus installed.
Windows configured to start HCA on boot.
A program installed that watches for an abnormal termination of HCA and restarts it if that happens.
The device drivers for the 2413 Insteon PowerLinc and the PulseWorx UPB PIM-U installed.
TeamViewer installed - personal mode so no license needed - and configured to start with Windows. This way you can access the machine to interact with Windows if you ever need to without needing a monitor, mouse, and keyboard connected. The Team Viewer ID and a permanent password is of course supplied to you. We don't keep a record of them.
"Burned-in" for several days to ensure correct operation.
Note: If you are purchasing only the computer, email us after you place your order with your HCA registration code or the email address you registered with. We must verify that you already have a fully licensed copy of HCA.
HCA Server Computer as described above ($350 + 17.85 postage)
HCA Server Computer as described above ($350 + 17.85 postage) + new HCA 16 Plus license ($80)
HCA Server Computer as described above ($350 + 17.85 postage) + upgrade to HCA Plus ($25)
All "Buy Now" purchases are made using PayPal, so a few helpful tips about purchasing with PayPal that will make things go much smoother...
Once you complete the purchase with PayPal we get notified you have made a purchase. We will email you to confirm the order of the server computer. It can take up to a week to configure, test, and ship. At the slowest, you should receive the order confirmation email from us within 2 business days after you make the purchase with PayPal. If you have not received email from us within that time, please contact Support and be sure to include a phone number as occasionally our emails get killed by junk mail filters. When that happens, we need a different way of contacting you.
We ship only USPS and tracking info comes from them when it ships.
Before purchasing with PayPal please check that the email address your PayPal account is linked to is correct and is your current email address. Also check your address listed in PayPal as that is the address we will ship to. If you want us to ship to a different address, just send email to our sales email as soon as you can.
After you receive your new Windows Server machine...
We put together a notebook of things we have learned about these machines and the best way to manage them and run the HCA Server. We make this available to all purchasers and it contains many ideas that ease the transition from where you currently run the HCA Server to this new platform.
Remember it is just a Windows 10 machine and all that you know about that fully applies.